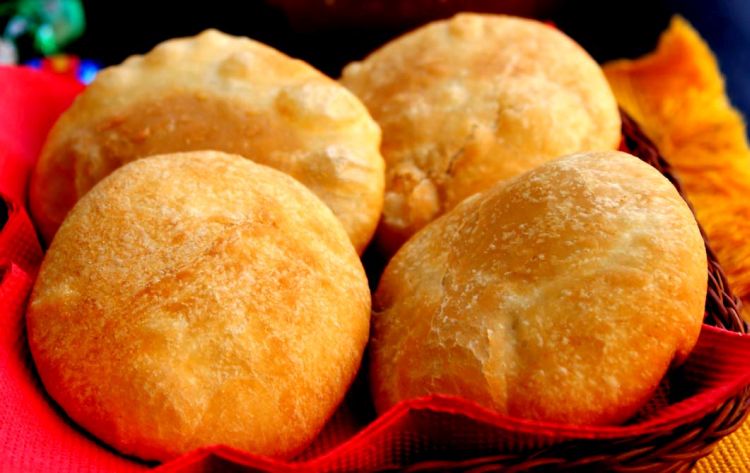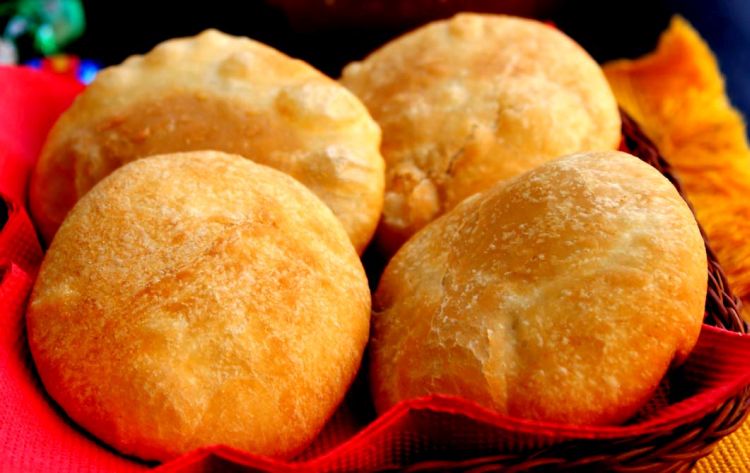 Pea Kachoris
Pea Kachoris
Recipe by Yamuna Devi, from Lord Krishna's Cuisine
Ingredients:
2 cups (235 grm) unbleached white flour
1 teaspoon salt (5ml)
1/8 teaspoon sugar (0.5)
4 Tablespoons (60ml) ghee or unsalted butter, softened
7-9 Tablespoons (105-135ml) ice water
1 2/3 cups (400 ml) new peas or frozen baby peas, steamed
1 Tablespoon (15 ml) ghee or unsalted butter
2-3 hot green chilies, seeded and minced
1-inch (2.5 cm) piece of scraped, minced fresh ginger root
¼ teaspoon (1ml) yellow asafetida powder (hing0
1 teaspoon (5ml) garam masala
½ Tablespoon (2ml) lemon juice
1/8 teaspoon (0.5 ml) baking soda
1 teaspoon of sugar
Ghee for deep-frying
1. Blend the flour, salt, and sugar in a mixing bowl. Add the softened ghee or butter and rub it in with your fingertips until is fully incorporated and the mixture resembles coarse breadcrumbs. Add a scant ½ cup (120 ml) of ice water and quickly work the ingredients to moisten the flour evenly until it can be gathered into a rough dough. If necessary, add the remaining water or as needed to make a non-sticky, kneadable soft dough. Knead on a clean surface for about 8 minutes or until the dough is smooth and pliable. Shape it into a ball, wrap with plastic and set aside in a cool nook to rest for ½ hour -1 hour while making the stuffing. (The dough can be made up to 2 days in advance, well-sealed and refrigerated. Bring it to room temperature before shaping and stuffing the kachoris.)
Alternately, fit a food processor with the metal blade, combine the flour, salt and sugar and process until mixed. Add the softened ghee or butter and pulse about 10 times or until fully incorporated. With the motor running, slowly pour in a scant ½ cup (120 ml) of ice water and process until the dough forms a ball. Remove it, shape it into a ball, wrap in plastic and set aside in a cool place while making the stuffing.
2. Place the peas in a bowl and mash with a fork until pulpy. Heat the 1 tablespoon (15ml) ghee or butter in a heavy nonstick frying pan over moderate heat. Add the green chilies and ginger and fry for about ½ minute, then follow with the asafetida. After frying for 5 seconds add the peas, garam masala, lemon juice, baking soda and sugar and stir-fry for about a minute. Remove the pan from the heat and cool to room temperature. Divide the stuffing into 18 portions.
3. Divide the dough in half and roll each piece into a log about 9 inches (22.5 cm) long.  Cut both to yield 18 pieces. Shape each piece into a smooth patty and set them aside on a plate, without touching. Cover with a damp towel or plastic wrap. Working with one piece of dough at a time, flatten it into a 2 ½ -inch (6.5 cm) patty. Gently press around the edges with your thumb and forefinger to thin slightly. Place a portion of stuffing in the center of the dough, then bring the sides of the dough over the filling to enclose it completely. Pinch the seams together until thoroughly sealed and smooth. With the pastry resting in the right palm, seam side up, press it with the heel of your left hand and flatten into a 2 ¼ -inch (6 cm) patty, about ½ inch (1.5 cm) thick. (Try to avoid thin spots in the pastry casing, for they easily burst during drying. This allows oil to enter the kachori, which makes it heavy and greasy.) Place the pastry, seam side down, on a baking tray and cover with plastic wrap or a moist towel. Shape and stuff the remaining pieces.
4. Slowly heat 2 ½ inches (6.5 cm) of ghee to 300 F (150 C) in a 10-12 -inch (25-30 cm) karai (wok) or sauté pan over moderately low heat. Slip in 9 pastries, seam side down. The ghee will automatically fall to about 225 F (107 C). Slowly fry the pastries for 24-27 minutes or until they sound hollow when tapped and turn a pale gold color. They should be delicately blistered and crisp. Use a wooden spoon for turning the delicate pastries (even chopsticks, if you are adept at using them). Remove them with a slotted spoon and drain on paper towels. Keep warm in a 250F  (120 C) oven while frying the remaining pastries. Kachoris may be made several hours ahead and reheated, uncovered in a 350 F (180 C) oven for 10 minutes.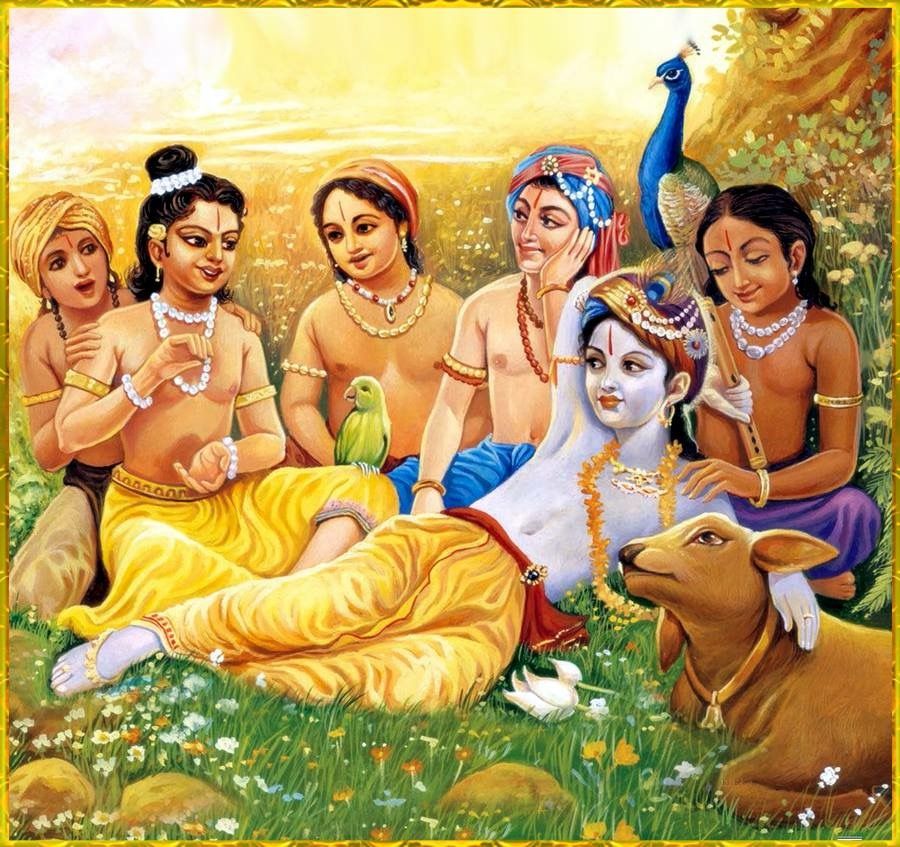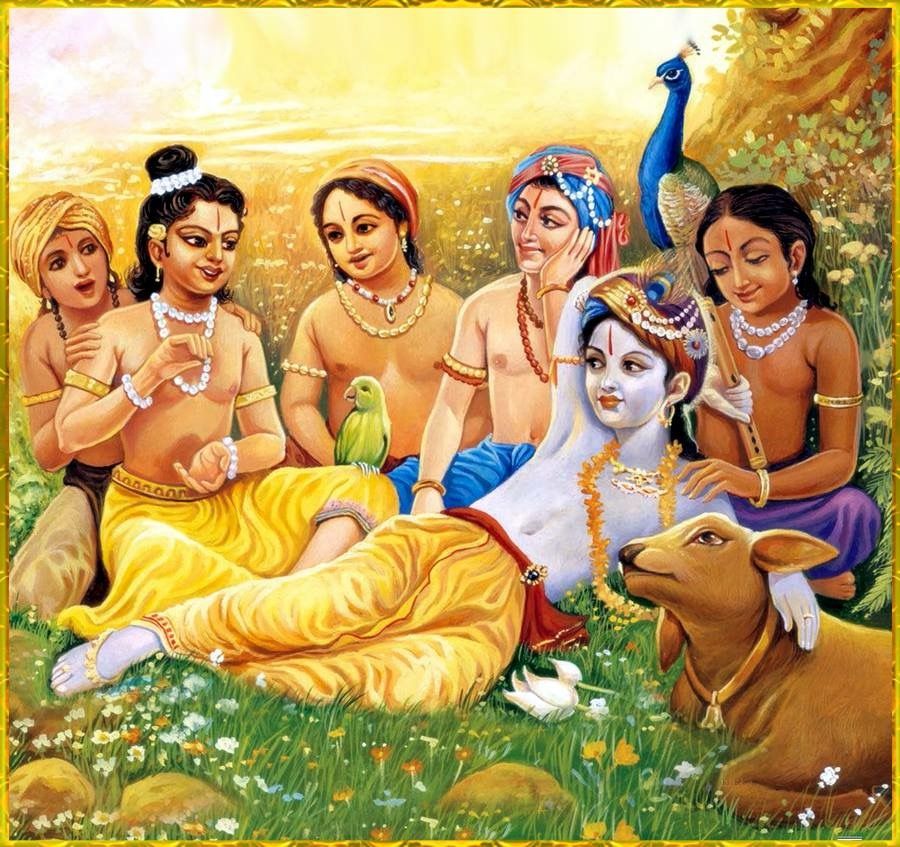 About GoFundCows
GoFundcows is an online platform to donate for cows and help Gaushalas around the world achieve their objective to care, protect and love Krishna Cows.
From CrowdFunding to CowFunding, now people around the world will have the opportunity to bring a touch of home, and Vedic tradition with them by donating for cows around the world – Go-Seva.
GoFundCows has the ability and potential to unite people from all walks of life in a way very few projects can and you all have the ability to create global change by helping all the ISKCON affiliated Goshalas to helping look after and love those cows for the pleasure of Krishna, Radha Rani and SRILA PRABHUPADA.